story unlikely
Real people. Real places. Real stories.
(AND PLENTY OF FICTION, TOO)
---
---
Featured Stories
---
---
---
---
submissions
---
---
Our story
---
IVORY TOWER
---
Updates
I'll continue posting updates as they come in, so circle back (Jen Psaki style!). I'll also be posting a segment recapping updates on our monthly issue of Story Unlikely; feel free to subscribe (scroll up). - Danny Hankner, Editor-in-chief
8-13-22: Are we really that different than the elders...seriously?7-27-22: Misinterpreting Matthew 18...read more.7-13-22: "You call these eggs!?"...keep reading.6-28-22: One of the scariest verses in all of the Bible comes from Exodus...read on.6-13-22: Have you straight up asked the elders, "Is this true?"...click HERE to read more.6-8-22: The elders have issued a statement...click HERE to continue reading.
---
testimonies
"Then the Lord said to Joshua, "See, I have delivered Jericho into your hands, along with its king and its fighting men....On the seventh day, march around the city seven times, with the priests blowing the trumpets. When you hear them sound a long blast on the trumpets, have the whole army give a loud shout; then the wall of the city will collapse and the army will go up, everyone straight in." - Joshua 6: 2-5
Why are we posting testimonies, and why does it even matter? Click HERE to find out. If you, or someone you know, has a testimony to share about the abusive leadership of this church, please reach out to dan@storyunlikely.com (Nothing gets posted without prior consent. Even if you're wrestling with this, please reach out.) More testimonies are coming in, so check back soon.
Following up with Jamie Richardson
Jamie & Billy Richardson
"We don't know exactly how to handle this. We've been trying to walk Justin through areas of repentance, but, it's just not…I mean, if it comes down to it, do we have enough evidence to do something about it?" – Rob, elder and pastor of the church.
Ethan Graham
Jeremy Gardner recounts his own journey with cognitive dissonance.
"We feel a bit like the cleanup crew. Justin makes a mess, and we come in after to patch things up." – Alex, elder of the church.
Paul J. Brack
Seth Fuller
Ryan & Danielle Jensen
"We have all experienced Justin, but for so many others in this church, if they themselves have never been run over by Justin, then they can't fully comprehend the reality of it." ~ Rob, pastor and elder of the church.
---
Helpful links
"Do not be misled: Bad company corrupts good character. Come back to your senses as you ought, and stop sinning; for there are some who are ignorant of God - I say this to your shame." - 1st Corinthians 15:33-34We're receiving volumes of content from people - how to make sense of this, why it happens, how to move forward, how to prevent this from happening in the future, etc. I'll be posting the most relevant ones once I have time to watch, listen, or read through them.
In their book Restoring the Fallen, a group of authors walk through the long, hard journey of Biblical restoration after a Christian speaker and psychologist's affair and sexual sin is exposed. This is a must read for anyone dealing with extreme sin in the church, and how to respond appropriately.Chuck Degroat joins Bodies Behind the Bus to dive into narcissism and how it affects the church. Disclaimer - the hosts (and Chuck himself) often deviate from the main topic of spiritual abuse and lend their thoughts to more debated issues such as diversity or complementarianism vs egalitarianism. Although these are important topics to discuss - and I believe there are things to be gleaned from all sides of these issues - personally, I feel this is out of place in the broader topic, and may leave some listeners feeling put-off, which is why I'm mentioning this.Author, psychologist, and certified trainer from the John Maxwell Team, Shaneen Megji shares insights into how narcissism infects the church in these revealing videos:
How God sees the narcissist pastor
When church turns into a cult
What the Bible says about Christian narcissistsPastoral Bullies - by Sam Storms.When to distrust your pastor - An article posted in the Gospel Coalition.The story told a thousand times. Accomplishments as high as heaven, character as low as hellWhy are people like this? It's hard to wrap our minds around things we don't understand. Clinical Psychologist Dr. Ramani delves deep inside the mind of the The Grandiose Narcissist.
"Jesus was not killed by atheism and anarchy. He was brought down by law and order allied with religion, which is always a deadly mix. Beware those who claim to know the mind of God and are prepared to use force, if necessary, to make others conform. Beware those who cannot tell God's will from their own." ~ Barbara Brown Taylor
Short Story Contest
---
Our annual short story contest is almost open for submissions, with updated guidelines, including doubling the prize package and word length - booyah!
Contest guidelines below. READ CAREFULLY. Failure to do so may result in disqualification!
Story Guidelines:
The short story contest is open to everyone with a brain (this is more restrictive than you think). There are no restrictions on genre: fantasy, sci fi, memoir, fiction/nonfiction, etc - we don't care as long as it's a good story. The story itself cannot exceed 2,250 4,500 words.What do I win?
A $500 $1,000 prize package will be divvied up like so: $500 first place, $300 second place, $200 third place. The winning story will be featured on Story Unlikely's website. All three placing stories will be published in the monthly issue.Don't forget about the honorable mentions! That's right, you honorable little losers, you. Is that harsh? It's supposed to be a compliment. Anyway, we do NOT notify honorable mentions ahead of time, because we're lazy busy, so very, very lazy busy. Rather, we announce them in the monthly issue along with the winning story, which you need to sign up for in order to be eligible to enter. If your name appears on this list of honorables, you'll be prompted to contact us and we'll send you a fancy, shcmancy certificate for proof that you, indeed, almost won a writing contest. But not quite.When can I submit?
The submission period runs from October 1st through December 31st. Our reading period is January through March.When will my story be published?
Stories will be published - at our whimsical discretion - the following calendar year between April and December. Winning authors will be notified, at the latest, by June 1st. All authors MUST be signed up for the Story Unlikely monthly issue to be eligible for prize and publication. (Don't worry, we only send out ONE issue (email) a month – we can't stand getting our emails blown up, and we know we're not alone in that).How do I submit?
We accept email submissions ONLY.
Attach the ENTIRE story to the email (Microsoft word doc or docx). Be sure to remove ALL forms of identification from the story (If your story happens to be about you, just be sure to remove your last name).Send your story in the following manner:
Email to submissions@storyunlikely.comEmail Title must be in the following:Submission: Title, Author Name, Fiction/Nonfiction, Sub Genre (if applicable or desired)(In the text)Dear Editor,TITLE, FICTION/NONFICTION, SUB GENRE (if applicable), WORD COUNT[Insert FIRST 250 words of your story (rounded to the nearest sentence) here]# (insert page break)(Insert short author bio, including any previously published stories, as you want it to appear below your story if/when published)(Tell us how you found Story Unlikely)Sincerely,
NAME
Contact information (best email contact, phone number (just in case), country and state, and email)Do you accept multiple submissions?
No, one submission per author.Do you accept simultaneous submissions?
No – do not send your story entry out to other publishers prior to June 1st.What type of formatting should the story be in?
We actually prefer block paragraphs (if for no better reason than to see who actually read this), but anything remotely standard is fine - we're not picky on formatting, so long as its not obnoxious.Any tips on winning this thing?
Sure, here's a little secret – most stories get 'bumped' before we finish reading the first page (that's right, we're a merciless bunch). A trained eye can tell the quality of a story and the ability of the storyteller from only a few sentences, so tighten that opening!What are you looking for?
To put it simply, good stories. Entries will be judged both by the technical and literary quality as well as the author's ability to tell a story. All entries must be previously unpublished. Here's what we're NOT looking for: Excessive anything. Think PG-13, R if necessary. We're not attempting to salt the earth with more cultural dogma couched as mediocre fiction, or writers who are jockeying for the title of Most Woke. There's enough of that already out there. You want to impress us? Write a good story. You want to win? Write a great one.Anything I missed?
Likely you skimmed over two things, and they're OH so important:
#1. To be eligible for the contest, all writers must be signed up to Story Unlikely's monthly issue. Did we mention it's free? Because it is. Totally free. You can unsubscribe at any time, just wait until the contest is over, otherwise we'll consider that a withdrawal of your entry. Scroll down for the sign up form.#2. Re-read HOW we want you to submit (like, the first 250 words of your story, we really do need that in the body of your email - it is of utmost importance to us). It's so important that we will post a sample below...
Subscribe below to receive an Unlikely Story every month.
Our issues are text heavy and often get filtered to spam; be sure to add dan@storyunlikely.com to your safe contacts!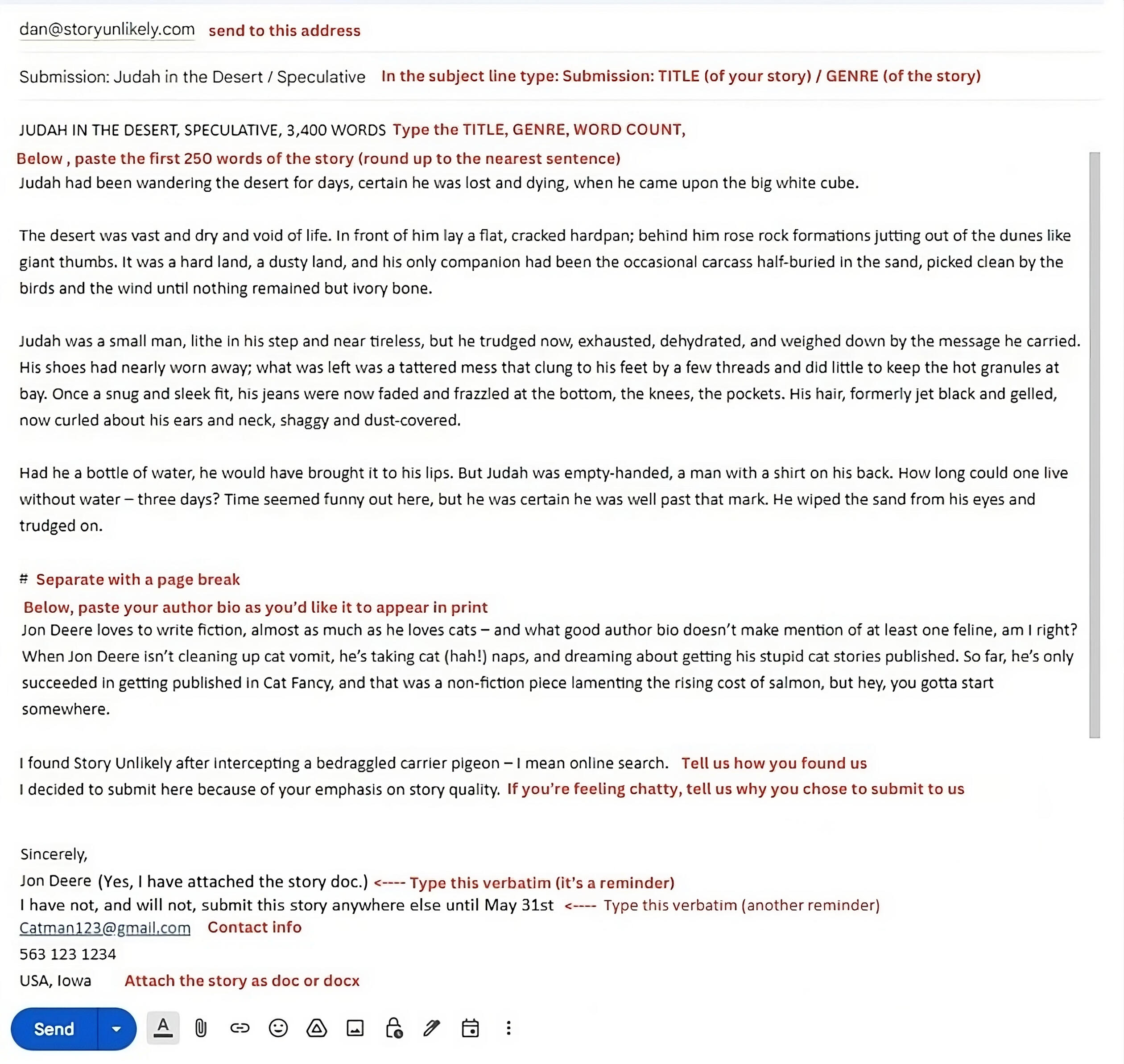 Story Unlikely retains First North American Serial Rights upon publication. The author retains all other rights to their story. (In other words, you can publish your story anywhere else after it's been published here, we just ask that you mention that it was published in Story Unlikely first.)
Our Story
Confession: Story Unlikely was an unlikely afterthought
---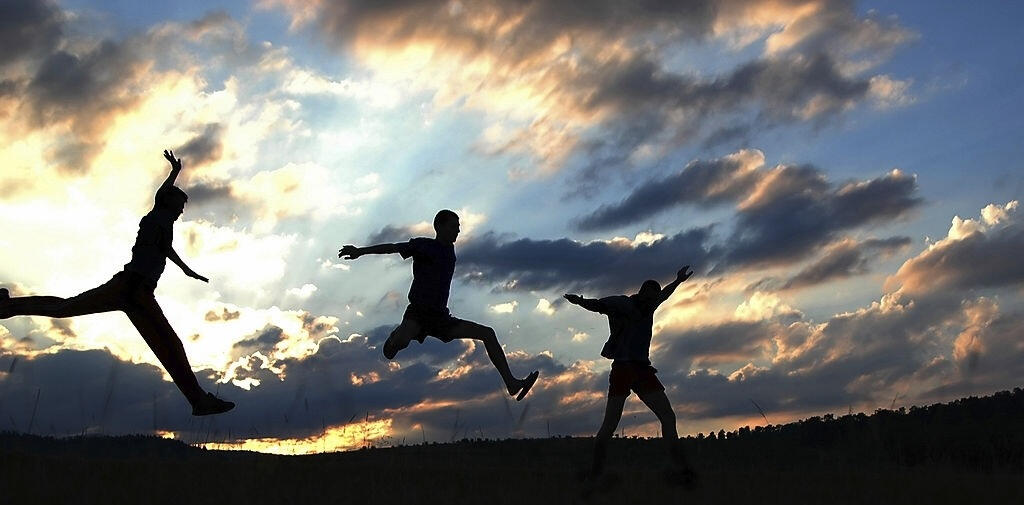 I can't tell you how many times, as a writer, that I received rave feedback from editors who eventually declined my stories because 'it just didn't fit the theme,' or 'wasn't quite the style we had in mind'. Question: who cares? Seriously, when was the last time you read something amazing, but then lamented how this wonderful story seemed out of place. Answer – never. Am I the only person who just wants good stories?After years of this nonsense, coupled with being bumped by no-talent hacks purely based on ideology or politics, or because some snowflake minted a new gender, I finally had enough. This is still a free country (well, sort of), and still a meritocracy (kind of). What if I started my own literary magazine, where we didn't squeeze every last dollar out of (already broke) writers for submissions, where we actually paid them fairly for their work, and we selected stories based entirely off quality (and nothing else)?Well, we did.Here at Story Unlikely, we don't charge anything, and we don't make any money. Maybe someday, but in the words of Aragorn, "It is not this day!" Right now, this is our goal:1. Find great writers
2. Publish great stories
3. Build a yuuuuge audienceWelcome to Story Unlikely.
MEET THE UNLIKELY TEAM
Danny Hankner
Editor-in-chief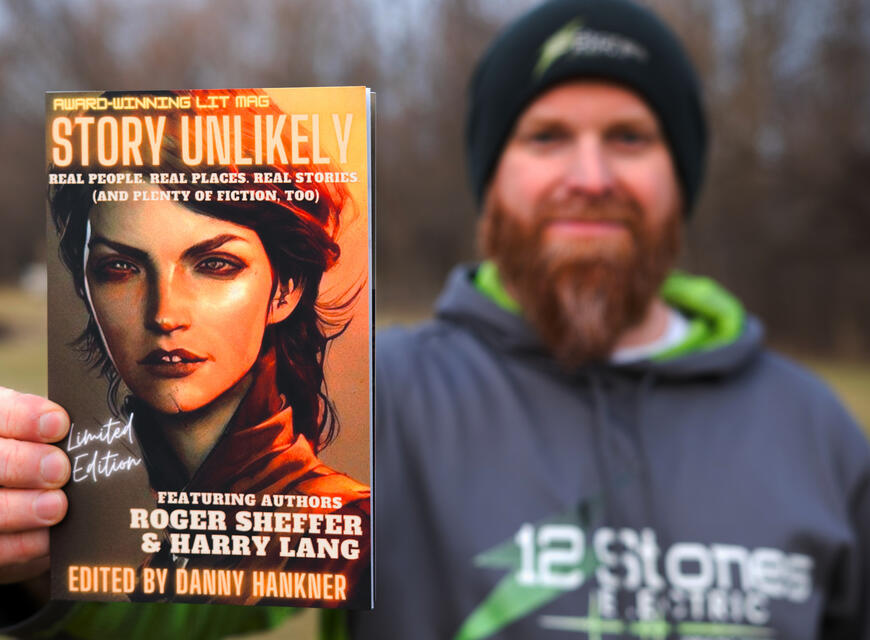 Danny Hankner began penning stories about himself and his idiot friends as a teenager. Now, masquerading as an adult, he lives in Davenport, Iowa with his wife and three children, working as an electrician for his own company. In his spare time, Dan regularly injures himself mountain biking, whines about cleaning up all the cat hurl in the basement, and runs Story Unlikely, where he floats around self-important titles like 'Editor-in-chief'. His work has besmirched the good reputations of Downstate Story, SQ Mag, Bending Genres, Memoirist, and many more unfortunate publishers, as well as being a semi-finalist in Writers of the Future. To read more of Dan's work, visit www.storyunlikely.com
---
Megan Hankner
Senior editor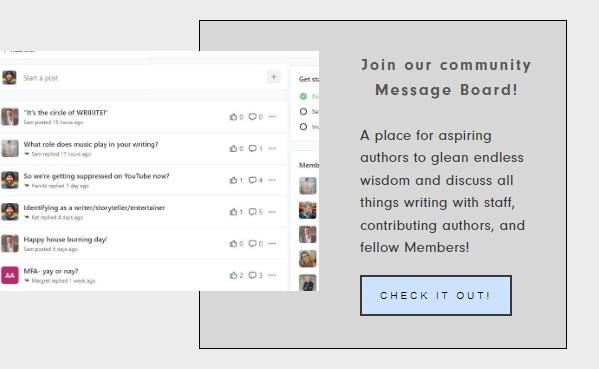 Growing up without a TV (poor, neglected child), Megan was forced into the tattered pages of series like Nancy Drew or Little House on the Prairie for entertainment. Megan cultivated her appreciation for prose by earning an overpriced English degree from St Ambrose University. Don't feel too sorry for her – shortly after graduating, she managed to land a super handsome prince charming for a husband who now operates as full-time sugar daddy, and who clearly had no hand in crafting this bio, despite his brilliant (totally brilliant!) way with words. When not wrangling the kids or rolling her eyes at her husband's antics, Megan samples a garden variety of books at an alarming rate, though her favorite genres include travel and athletic memoirs.
---
Laura
Editor who misplaced her last name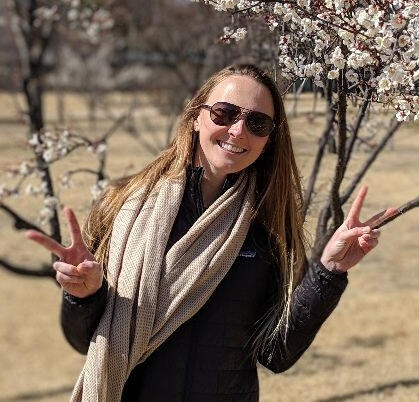 Recently exiled from California, Laura has returned to her midwest roots after years of longing for its sweltering summers, its frigid winters, and a charming array of allergens. Laura is a fantasy connoisseur who has a strange addiction to re-starting epic, long-winded series like The Wheel of Time before she actually finishes them. She lives in Des Moines with her high-functioning germophobic husband and token feline named Chaos.
---
Craigbeard
The editor also known as Liberal Craig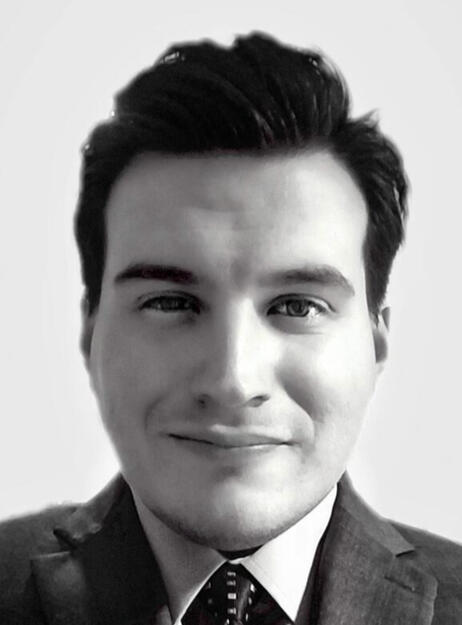 Don't be fooled by his questionable politics, Craig's a top-notch man of mystery who enjoys a top-notch story (it's rumored that he takes his books like he takes his carnival food – hot and fast and slightly terrifying). When not ingesting novels from authors like Stephen King or Kurt Vonnegut, Craig indulges his inner movie buff with the latest Wes Anderson flick. He lives in Moline, Illinois with his wife and son, grinding out the work week with a beard that brings all the girls to the yard.
---
We try and be a little more accessible than most magazine editors. Got a question, comment, or concern? A suggestion for us to improve Story Unlikely? A compliment to pass along to an author? Reach out to us at storyunlikely@mailbox.org
submit your story
show the world your stuff
---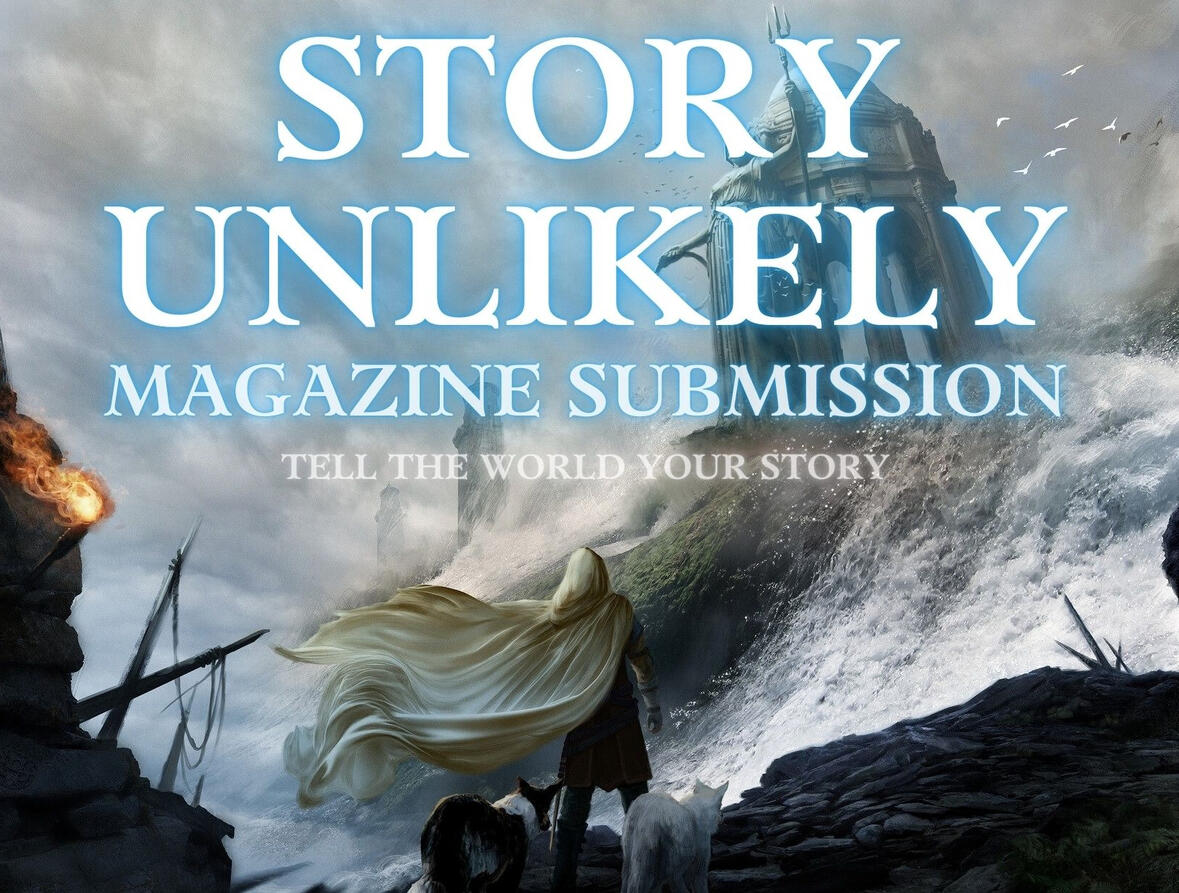 Why submit to us?
- WE PAY PROFESSIONAL RATES. It's hard work writing good stories, and you deserve to get paid fairly for it. Or maybe you don't, and you're just duping us? Regardless, we pay 5 cents a word for stories up to 2,000 words. Stories above 2,000 are capped at $100 payment.
- NO SUBMISSION FEES. We're not saying the other guys are getting rich off $3 per submission, but there's something about the idea that we, as writers, have you pay you, the publisher, just for the privilege of rejecting our work with a form letter, bothers us. (Costs of running an E-zine aside) We're going to go ahead and coin a phrase right here and now - 'Write privilege', get it? Of course, you do.
- GET YOUR WORK IN FRONT OF A LARGE AND GROWING AUDIENCE. Our aim is fixed on telling good stories, period, and because of that we have built a readership from all over the globe. Want to get your stories out to more than just dear old granny? Then you've come to the right place.
- REASONABLE TURN-AROUND TIME. If your story hasn't been published within 90 days after being submitted (or you haven't heard from us on the occasion of a story holdover), then it was rejected. Rejections stink - we get it - but its better than being ghosted.What to Submit to us?
- STORY LENGTH: We like stories on the shorter end. However, though rare, we'll publish something as long as 10k, if it's worth it. Try us, you never know.
- GENRE AND STYLE: Although we have our preferences (memoir, bizarro, and speculative, humorous, strange, and thoughtful, just to name a few), we are not beholden to them. Good stories don't just come in all shapes and sizes, but in all genres, too (fiction and nonfiction). If it's a story, send it to us.
- CONTENT: To put it simply, we're looking for good stories, measured both by the quality of the writing and the skill in storytelling. Here's what we're NOT looking for: excessive anything. Think PG-13, R if necessary. We're not attempting to salt the earth with more cultural dogma couched as mediocre fiction, or writers who are jockeying for the title of Most Woke. There's enough of that already out there. You want to impress us? Write a good story. You want to get published? Write a great one.
- NEW STORIES AND REPRINTS: We accept previously published stories – and oh how we love a good reprint(!), as long as you, dear author, have retained full rights. For reprints, we pay 1 cent per word with a maximum payout of $50 (the story length can still be up to 10,000 words).
- ONE STORY PER AUTHOR PER 90 DAYS: We do not accept multiple submissions. We DO accept simultaneous submissions (IE, you can send it out somewhere else at the same time. Just inform us immediately if it is accepted.)How to Submit to us?
- BECOME A READER: Though we don't charge for submissions, you do need to subscribe to our magazine (free) – this is how we publish our stories, and how you'll find out if your story made the cut. Don't worry, we send out ONE issue per month. Your sacred inbox is safe with us! (See sign-up form below)
- SUBMISSION PERIOD: Our standard submission period runs from February 1st through September 30th. (In between runs our contest, and we take a breather in January).
- BY EMAIL: Email submissions to: submissions@storyunlikely.com in the following format:
- FORMATTING: We publish stories in block format, so that's preferable, but honestly, you've spent enough time writing the darn thing to worry about our silly preferences on spaces and underlines and, heaven forbid, a different font.For previously UNPUBLISHED stories:Email title: (SUBMISSION: STORY TITLE,)
Body of email: Include TITLE, (FICTION/NONFICTION,SUB GENRE (if applicable)),WORD COUNT, FIRST 250 words of the story (rounded to the nearest sentence), author bio as you want it to appear along with your published story, your contact info, and tell us how you found Story Unlikely.
Attachment: Attach your story as a DOC or DOCX, or something else if you want to be difficult.For previously PUBLISHED stories (reprints):
Email title: (SUBMISSION, REPRINT, STORY TITLE)Body of email: Include TITLE, FICTION/NONFICTION,SUB GENRE (if applicable),WORD COUNT.FIRST 250 words of the story (rounded to the nearest sentence), author bio as you want it to appear along with your published story. Include your contact info and information on the previous publication (where and when, online or print, and previous payment, if any), and tell us how you found Story Unlikely.
Attachment: Attach your story as a DOC or DOCX, or something else if you want to be difficult.(See below for a sample submission)I submitted a story, now what?
- Seriously, sign up for the mailer: We do NOT consider submissions from anyone who is not one of our readers – sorry, but we're kind of inbred that way. You're welcome to unsubscribe at any time, just be aware that doing so automatically withdraws any pending or future submissions.
- Wait up to 90 days: We do NOT contact you ahead of time if your story will be published – it's like a birthday surprise, only its not your birthday. If your story was not published within the next three months, then it was rejected. There are occasions where we want to publish your story, but cannot within the 90-day period. This is generally the only time we will contact you ahead of publishing your story.
- Tell your friends about us: You want them to see your work, don't you? We also want word of mouth referrals, so talk us up to your inner circle like we're Jinko's circa 1998.
---
Subscribe below to receive an Unlikely Story every month.
Our issues are text heavy and often get filtered to spam; be sure to add dan@storyunlikely.com to your safe contacts!
---
Sample submission: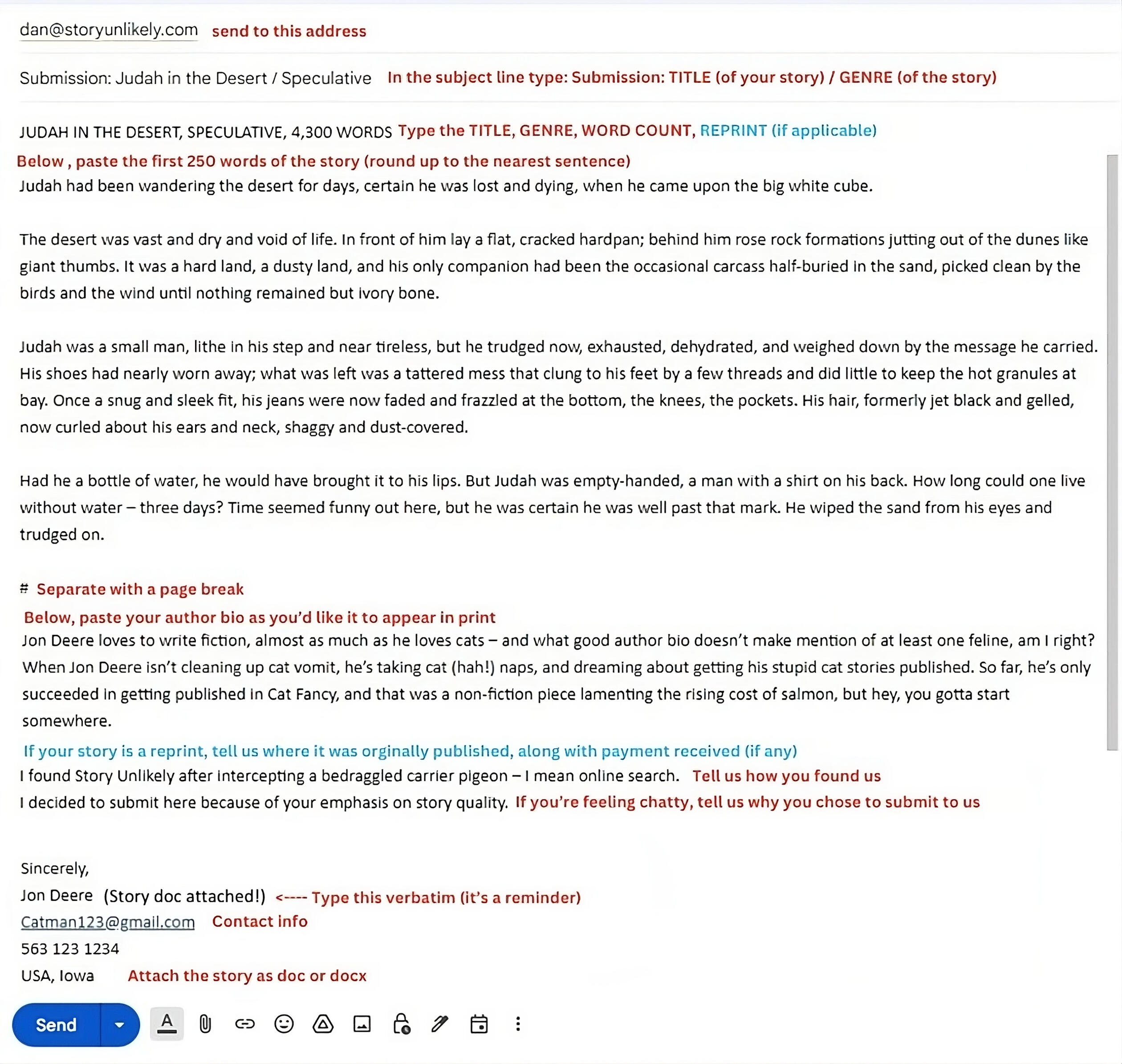 ---
Story Unlikely retains First North American Serial Rights upon publication (of all previously unpublished stories). The author retains all other rights to their story. (In other words, you can publish your story anywhere else after it's been published here, we just ask that you mention that it was published in Story Unlikely first.)